The government "strongly recommends" masking at private outdoor gatherings as well.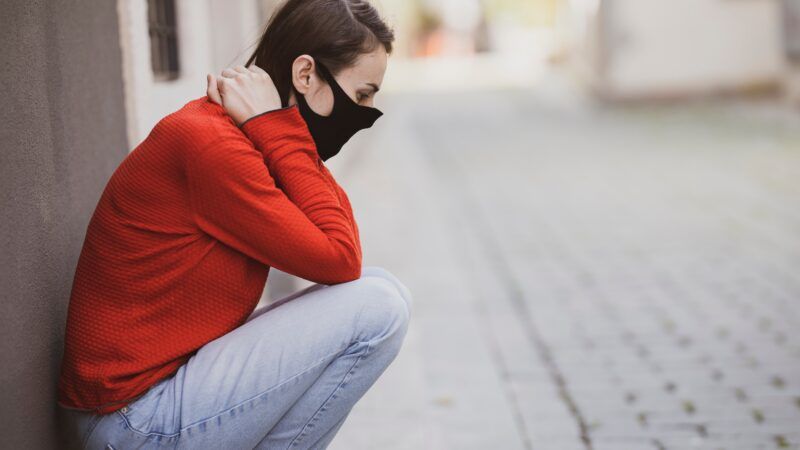 (engin akyurt / unsplash)
Oregon Gov. Kate Brown, a Democrat, has instituted a new mask mandate: People must now wear masks, even outdoors, and even if they are vaccinated.
The rule covers large public gatherings, though the government "strongly recommends" that people wear masks during small, outdoor social events on their own property as well.
"The Delta variant is spreading fast and wide, throwing our state into a level of crisis we have not yet seen in the pandemic," said Brown in a statement. "Cases and hospitalizations are at a record high. Masks are a quick and simple tool we can immediately deploy to protect ourselves and our families, and quickly help stop further spread of COVID-19."
Of course, the quicker, simpler, and vastly more effective tool is vaccination. Vaccinated individuals are significantly protected from negative health outcomes related to COVID-19, and though the delta variant is vastly more infectious than the original strain, the vaccines still make transmission somewhat less likely.
At this point in the pandemic, forcing vaccinated people to wear masks outside is an unjustifiable act of overreach on the part of government officials. It's also contrary to existing guidance from the Centers for Disease Control and Prevention (CDC), which holds that masks are generally not necessary in outdoor settings. The CDC does state that people may wish to voluntarily wear masks during particularly crowded outdoor gatherings out of an abundance of caution, but we know that confirmed outdoor superspreader events are so rare as to be practically nonexistent.
A recent outbreak at Oregon's Pendleton Whisky Music Fest seems to have spooked local authorities; 66 of the 12,000 attendees later tested positive for COVID-19, according to Oregon Live. However, it's far from clear that the infections occurred during the outdoor portions of the event, and 61 of the 66 infected individuals were unvaccinated. It does not make much sense to require all people to wear masks outdoors when only the unvaccinated are at significant risk of being hospitalized with or dying from COVID-19.
But for some health experts, there's no such thing as being too cautious. Oregon Live quotes a University of Washington epidemiologist who puts on a mask before crossing paths with another person while hiking on nature trails near Seattle. "Outdoors we need to use common sense, meaning, 'I'm far enough away from you so I don't get infected,'" Ali Mokdad, the epidemiologist, told the news site.
Indeed, even though the CDC granted vaccinated individuals full permission to drop their masks while outdoors several weeks ago, outdoor masking is still extremely common on the streets of Washington, D.C., where I live.
People have the right to take whatever additional precautions they want. But outdoor transmission—even of the delta variant—still appears to be rare among vaccinated people. The risk of contracting the virus via brief, incidental outdoor contact is extremely low. Mandating masks in such circumstances is a farce, and one unique to the U.S.: European countries do not generally have outdoor mask mandates, even in areas where coronavirus spread is higher than it is here. If the government can make people wear masks under conditions where the threat of illness is negligible, there is no real limit on its pandemic authority whatsoever.
Source:  reason.com/2021/08/24/oregon-masks-mandate-covid-vaccine-kate-brown/?utm_medium=email