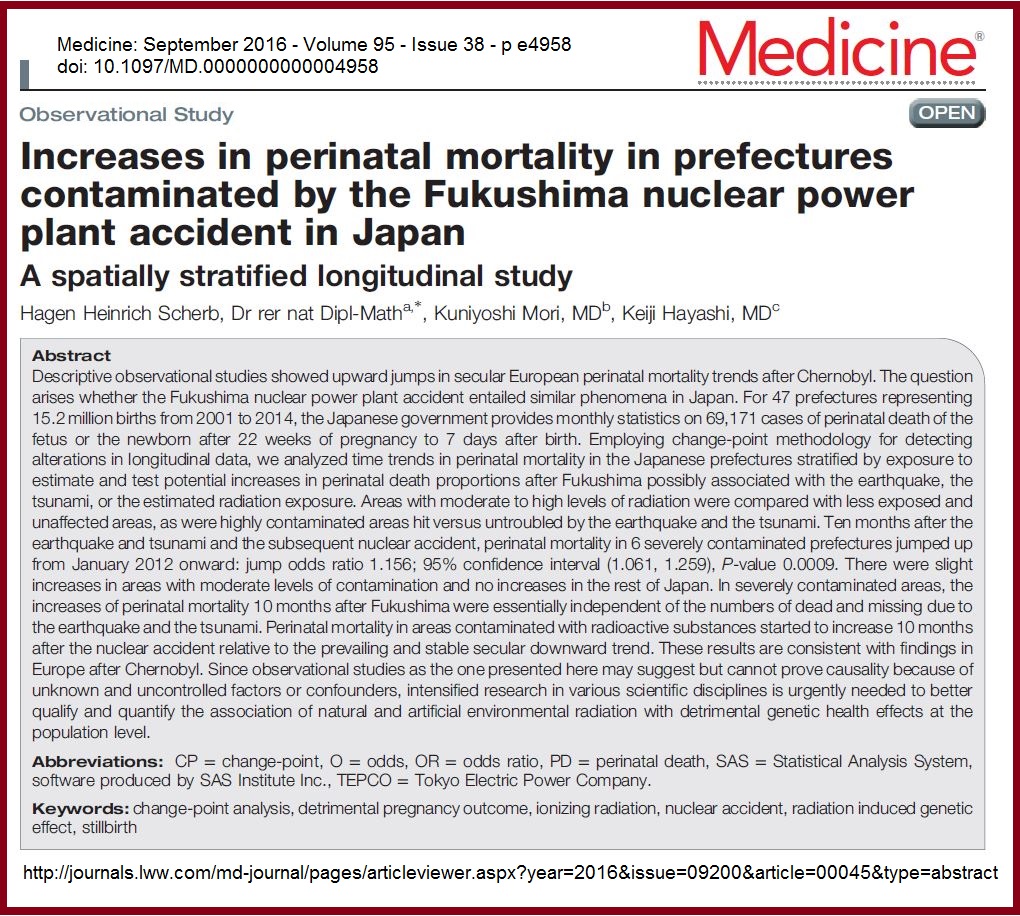 Subject: Increases in perinatal mortality due to Fukushima
Date: 11:13 AM EDT, 08/25/17
From: "Ralph Fucetola JD"
To: "mitsu"
Dear Murata-san,
The scientific study you just sent me is very troubling and confirms the terrible suffering caused by the Fukushima disaster.
From the Abstract: "Perinatal mortality in areas contaminated with radioactive substances started to increase 10 months after the nuclear accident relative to the prevailing and stable secular downward trend."
I will post your letter and attachment on Open Source Truth.
Regards,
Ralph
—— Original Message ——
Received:
09:15 AM EDT, 08/25/2017
From:
"Mitsuhei Murata"
Subject:
Increases in perinatal mortality due to Fukushima
Dear Friends,
I am sending you my message addressed to President Thomas Bach of the IOC.
The consequences of Fukushima continue to surface. The IOC, however, have ignored all subsequent warnings. Its next general assembly meeting should take up all the fundamental issues, including the future of the Olympic Games.
With warmest regards,
Mitsuhei Murata
Former Ambassador to Switzerland
—–Original Message—–
From: Mitsuhei Murata
To: Thomas Bach
Sent: Friday, August 25, 2017 12:31 PMDear President Thomas Bach,
Professor Norio Noguchi of Tokyo Institute of Technology has sent me the attached document.
It concerns increases in perinatal mortality in prefectures contaminated by the Fukushima nuclear accident.
Please allow me to expect that this information will be communicated adequately to the eventual visitors to Japan, athletes and spectators, for the Olympic Games 2020.
This is a renewed warning against organizing events, baseball and soccer, in Fukushima.
With highest regards,
Mitsuhei Murata
Former Ambassador to Switzerland