Update (1550ET): At least 100 truckers are blocking the Canadian border between Alberta and Montana for a third day in protest of vaccine mandates – and Canadian officials are beginning to freak out.
On Sunday, Alberta Premier Jason Kenney called for an end to the blockade, saying in a statement: "Canadians have a democratic right to engage in lawful protests. I urge those involved in this truck convoy protest to do so as safely as possible, and not to create road hazards that could lead to accidents or unsafe conditions for other drivers."
According to the Calgary Herald, over 100 vehicles remain blocking the Southern Alberta highway.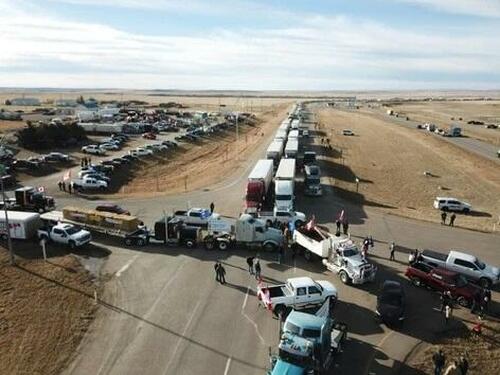 Semi-trucks, cars and farm equipment filled Highway 4 south of Lethbridge on Saturday, in support of a national convoy to Ottawa with a stated goal of repealing a federal mandate requiring unvaccinated Canadian truckers re-entering Canada from the United States to get tested for COVID-19 and to quarantine. Some participating in both protests have expanded that goal, demonstrating against health orders and the federal government as a whole. -Calgary Herald
And it looks like Canada officials may be about to take action.
"If participants in this convoy cross the line and break the law, I expect police to take appropriate action," said Kenney.
Kenney has previously warned that vaccine restrictions could disrupt the supply chain between the US and Canada.
The truckers, meanwhile, have voted to stay.
*  *  *
Canadian Prime Minister was accused of hypocrisy when he suddenly was nowhere to be found late last week as a convoy of truckers rolled into Ottawa to protest the government's COVID mandates. Many scoffed at Trudeau's sudden disappearing act when confronted by a massive crowd of protesters, many carrying signs mocking his comment that the truckers and their supporters were part of a "tiny fringe minority".
Making matters worse for the PM, Canadian media reported Monday morning that Trudeau had been diagnosed with COVID, despite receiving a booster dose early this month on Jan. 4.
Is it possible to get infected with COVID while being boosted and in hiding? Or has Trudeau really been stricken with COWARD-19?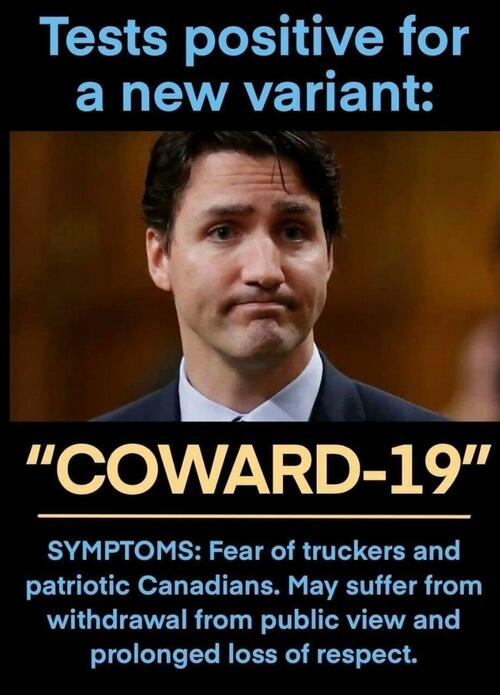 The truckers are protesting a new measure imposed by the Canadian government on Jan. 15 requiring unvaccinated cross-border truckers to quarantine upon returning home, making it virtually impossible for them to work. The convoy ended outside Parliament in Ottawa over the weekend, as thousands of protesters gathered.
Trudeau had reportedly decided to isolate due to one of his children testing positive for COVID. Now it appears he too has tested positive. Of maybe this is just another excuse for him to remain in hiding?
Former President Trump praised the Canadian truckers over the weekend, proclaiming that they were doing more to protect American freedoms than any lawmakers.
According to his own quarantine requirements, Trudeau now has an excuse to remain in hiding for up to 14 days.
Source:  www.zerohedge.com/political/coward-19-trudeau-tests-positive-covid-while-hiding-out-canadian-truckers