CDC mandate is 'a work in progress. It evolves like in so many other areas of the pandemic…'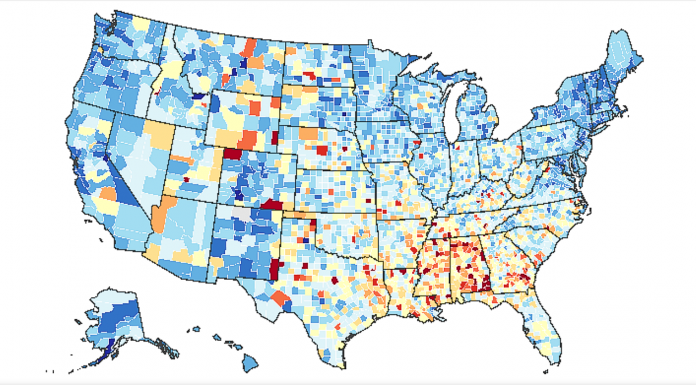 The Centers for Disease Control and Prevention launched the first of what may be a cascading series of oppressive, unconstitutional coronavirus mandates as the Biden administration continued to use fearmongering in a bid to save face for its paltry 49% vaccination rate.
According to reports, the CDC planned to recommend that US regions with higher transmission rates re-implement mandates for social-distancing and wearing face-masks indoors.
The requirement would extend to those who are vaccinated as well as unvaccinated, since there is little way to distinguish between the two, short of imposing a Nazi-esque police-state.
"In areas with substantial and high transmission, CDC recommends fully vaccinated people wear masks in public, indoor settings to help prevent the spread of the delta variant, and protect others. This includes schools," CDC Director Rochelle Walensky told reporters on a call, according to MSNBC.
With schools set to reopen for the fall, a battle has been brewing over who would be required to wear masks. Walensky weighed in that everyone, "including teachers, staff, students and visitors, regardless of vaccination status," should be subjected to the new restrictions, despite evidence that children have a low risk of contracting or transmitting the virus.
The new guidance "deeply undermines vaccine confidence," said Rep. Cathy McMorris Rodgers, R-Wash., ranking GOP member of the House Energy & Commerce Committee.
"Mask mandates for more command and control will not build trust—only resentment," she continued. "The Biden Administration should be leading with science, not shame and fear."
The CDC's 'voluntary' guidance appeared to target hot-spots where it claims "mutant" strains, such as the delta variant, have given rise to a surge of new cases in what may prove to be a perennial pandemic.
Many of the areas correspond with red states in the country's interior where the Biden administration has secretly been busing illegal immigrants under cover of night.
With tens of thousands of new arrivals per week streaming across the border and nearly 2 million projected for the entire year, immigration officials have done little under the current administration to address preventative health measures.
In fact, with the CDC giving its official blessing just two weeks ago, the Department of Homeland Security formally ended a Trump-administration policy that restricted entry to the US during the pandemic.
While ignoring the immigration factor, the Biden administration has linked the increase in cases with regions that have high rates of vaccine hesitancy.
Despite increased case reports and hospitalizations, there is no indication that mortality rates have seen a spike—suggesting, instead, that those without the vaccine may be on their way to developing natural immunity by contracting the virus and developing antibodies.
However, due to the Democrat administration's politicization of the vaccines, spanning back to when former President Donald Trump was overseeing their development through Operation Warp Speed, many of the regions where vaccine hesitancy is prevalent correspond also with politically conservative parts of the country.
Coronavirus czar Anthony Fauci and others have used dogwhistle rhetoric in the past to warn of "two Americas" in the days to come: one in which blue-state residents will be rewarded for their vaccine rates and where non-compliant red states will be punished for their refusal.
Among those with the lowest vaccination rates, according to CNBC, are places like North Dakota, Idaho and Alabama—many of them low-density rural areas where the virus itself never posed a major threat to large portions of the population.
Fauci kept open the possibility of progressively more Draconian—and often arbitrary—lockdown measures to come as the delta variant approaches its projected peak in August.
He insisted that the revisions to CDC guidance "under active consideration" would be fluid by necessity, with no clear, predictable metrics for how they would be imposed other than reactivity.
"It's a dynamic situation," said Fauci, who was recently referred to the Justice Department for criminal investigation over allegations that he perjured himself before Congress.
"It's a work in progress," he continued. "It evolves like in so many other areas of the pandemic."
Source:  headlineusa.com/cdc-indoor-mask-mandates-red-state/?utm_source=HUSAemail&utm_medium=email&utm_campaign=HUSAemail