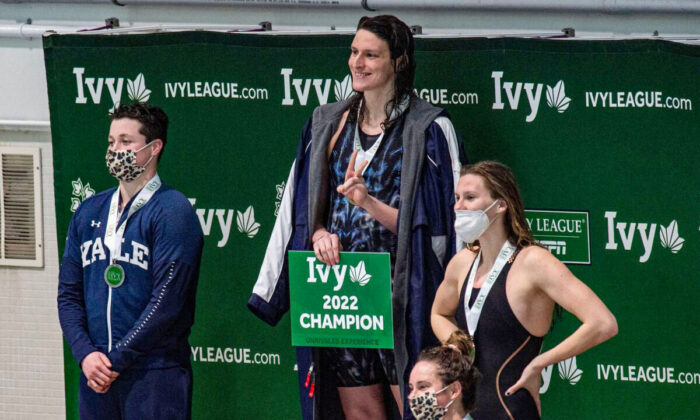 The governing body for international swimming approved new policies for transgender swimmers that will go into effect starting on June 20.
In a notice on June 19, the International Swimming Federation (FINA) said it will only allow biological male swimmers to compete in women's events if they have not experienced male puberty and have had puberty suppressed before age 12. They would also have to "continuously [maintain] their testosterone levels in serum (or plasma) below 2.5 nmol/L."
About 72 percent of FINA members voted in favor of the directive to restrict the participation of transgender athletes in elite women's competitions and create an "open" category for them.
The debate intensified after University of Pennsylvania swimmer Lia Thomas, a biological male who publicly identifies as a female, became the first transgender NCAA champion in women's Division I history after winning the women's 500-yard freestyle earlier this year. The win drew significant backlash from female swimmers, activists, and other athletes, including Thomas's teammates.
In an interview with Sports Illustrated last month, Thomas expressed the intention to seek a spot on the national women's swimming team before the 2024 Olympics. The new FINA rule issued on June 19 would block Thomas's participation.
The new eligibility policy for FINA-backed competitions says that biological male athletes are eligible to compete in women's sports only if "they can establish to FINA's comfortable satisfaction that they have not experienced any part of male puberty beyond Tanner Stage 2 (of puberty) or before age 12, whichever is later," according to the notice. The governing body added that biological women who claim to be men can fully compete in men's swimming events.
The organization heard from several doctors and scientists who argued that puberty gives a clear physical advantage to males over females.
"By 14 years or older, the difference between boys and girls is substantial. That's due to the advantages experienced due to the physiological adaptations in testosterone and the possession of the Y chromosome," physiologist Dr. Sandra Hunter said. "Some of these physical advantages are structural in origin such as height, limb length, heart size, lung size and they will be retained, even with the suppression or reduction of testosterone that occurs in the transition from male to female."
FINA President Husain Al-Musallam in a statement that the governing body has "to protect competitive fairness at our events, especially the women's category at FINA competitions."
"This has not been done before, so FINA will need to lead the way. I want all athletes to feel included in being able to develop ideas during this process," he said.
Sharron Davies, who won a swimming silver medal at the 1980 Olympic Games, welcomed the decision.
"I can't tell you how proud I am of my sport, FINA, and the FINA president for doing the science, asking the athletes/coaches, and standing up for fair sport for females," Davies said, adding that "fairness is the cornerstone of sport."
The NCAA said in January that it would enable "a sport-by-sport approach to transgender participation," or participation by athletes who claim to be a gender that doesn't match their biological sex.
Source: www.theepochtimes.com/swimming-governing-body-to-restrict-transgender-athletes-from-competing-in-womens-sports_4543544.html?utm_source=News&utm_campaign=breaking-2022-06-19-4&utm_medium=email&est=Pm7oryxNIovbQuxytxJssMVB3tWxpoCBbble8dakdDPVLB%2BqLDk4Y%2FTone2iBQ%3D%3D