#KillWHO Archive Podcast (26 July 2022 / Guest: James Roguski)
https://rumble.com/v1dti65-kill-who-before-who-kills-you.html  
From Telegram 23 July 2022:
  World Health Organization Secretary General Tedros: "I have decided that the global monkeypox outbreak represents a Public Health Emergency of International Concern." [PHEIC]
Dr. Rima Laibow has repeatedly warned that Mon(k)ey Pox (that 'k' is silent) was about to become the new 'pandemic' which would test the global health tyranny proposed by WHO in its pending amendments to the International Health Regulations — giving the 'Secretary General' of WHO unprecedented power. With the help of dedicated researchers and lawyers we exposed the threat.  The adoption of the new regulations was stopped after world-wide protests — our PUSH BACK worked once again.
Now, though, WHO seeks to use Mon(k)ey Pox to batter down resistance and achieve the dictatorial power they appear to crave.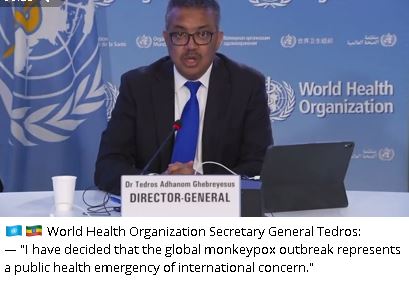 "Tedros and WHO leadership overruled a panel of advisers who voted against the declaration (9 against, 6 in favor). Tedros added this panel vote is just informal. He is the one to make the final decisions, not the panel." *
For more about being 'PHEIC'D' read here:
[1] July 4th: WHO says there is no Mon(k)ey Pox Emergency:
http://www.opensourcetruth.com/who-determines-monkeypox-not-an-international-public-health-emergency-at-present/
[2] May 23rd:  US Regime plans more power to WHO:
http://www.opensourcetruth.com/u-s-plan-to-amend-international-health-regulations-hands-over-more-power-to-who/
[3] May 18th: Legal analysis of proposed International Health Regulations:
http://www.opensourcetruth.com/legal-analysis-of-who-health-tyranny-regulation-amendments/
A SPECIAL MESSAGE FROM DR. RIMA
Natural Solutions is facing its greatest challenges as it responds to the extraordinary threats to health freedom and informed consent, as we continue to file Amicus Briefs with SCOTUS and other courts.
Please help. Make a generous donation so we can continue doing what we do best: support Informed Consent and shine the light of truth on what we are facing.
Use this link to support Natural Solutions through PayPal,
https://paypal.me/natsolutionshealth
Or this one to donate to the Institute through Fundly,
https://fundly.com/support-natural-therapies.
Prefer checks? Great! Send your contribution to
Natural Solutions Foundation
3769 E Calle Fernando
Tucson AZ 85716.
Yours in health and freedom,
Dr. Rima
* https://www.disclose.tv/id/1550846981764964353/