David DeLuca of Sicklerville, New Jersey will never know if the Ivermectin prescribed by an out-of-state doctor for his wife would have saved her life. Colleen DeLuca, 62, died of COVID-19 on Oct. 10, at Jefferson Washington Township Hospital in Sewell, New Jersey, before he could get a court order to administer the drug.
Ivermectin has helped in some cases,  but across the United States, many hospitals don't include it in their COVID protocol for treatment and refuse to use it, even as a last effort on a dying patient.
Buffalo, New York attorney Ralph Lorigo has spent the last 11 months handling cases where the family wants to try Ivermectin and must get a court order to force hospitals to allow the drug to be administered. DeLuca had Lorigo draw up papers for court, but because Lorigo doesn't practice in New Jersey, he instructed DeLuca to find a New Jersey attorney to file the papers and handle the case. However, DeLuca couldn't find an attorney willing to take on the case.
"They kept telling me the magistrates of New Jersey will never let this go through. Now I've got to go through the next 25 years without her," grief stricken David DeLuca, 62, told The Epoch Times. "My 3-year-old granddaughter kisses her photo at night."
A Beautiful Life
David fondly recalls the day in 10th grade American History class when the pretty, new girl took a seat near his. Colleen's family was in the military and she had just moved back from Germany. She was quiet but loved to listen to him talk. By senior year, they were an item and went to senior prom together. And when he got a scholarship to Bucknell University in Lewisburg, Pennsylvania, he couldn't imagine life without her. He arranged for housing and a justice of the peace, and in 1977,  the two 18-year-old high school sweethearts shocked their families and eloped.
"Everybody said it wasn't going to work," David said. "But ultimately my parents came to love her as a daughter." They went home for Thanksgiving and were loaded down with hand-me-down household items, proving their family was getting used to the union.
He worked two jobs; she helped him type school papers and cooked dinner for David and three college buddies who would become lifelong friends. By the time he graduated, they had three children under the age of four. Altogether, they had six children. The last two were home schooled all the way through graduation. And now there are 10 grandchildren. Colleen loved giggling with her grandchildren and was big on offering hugs.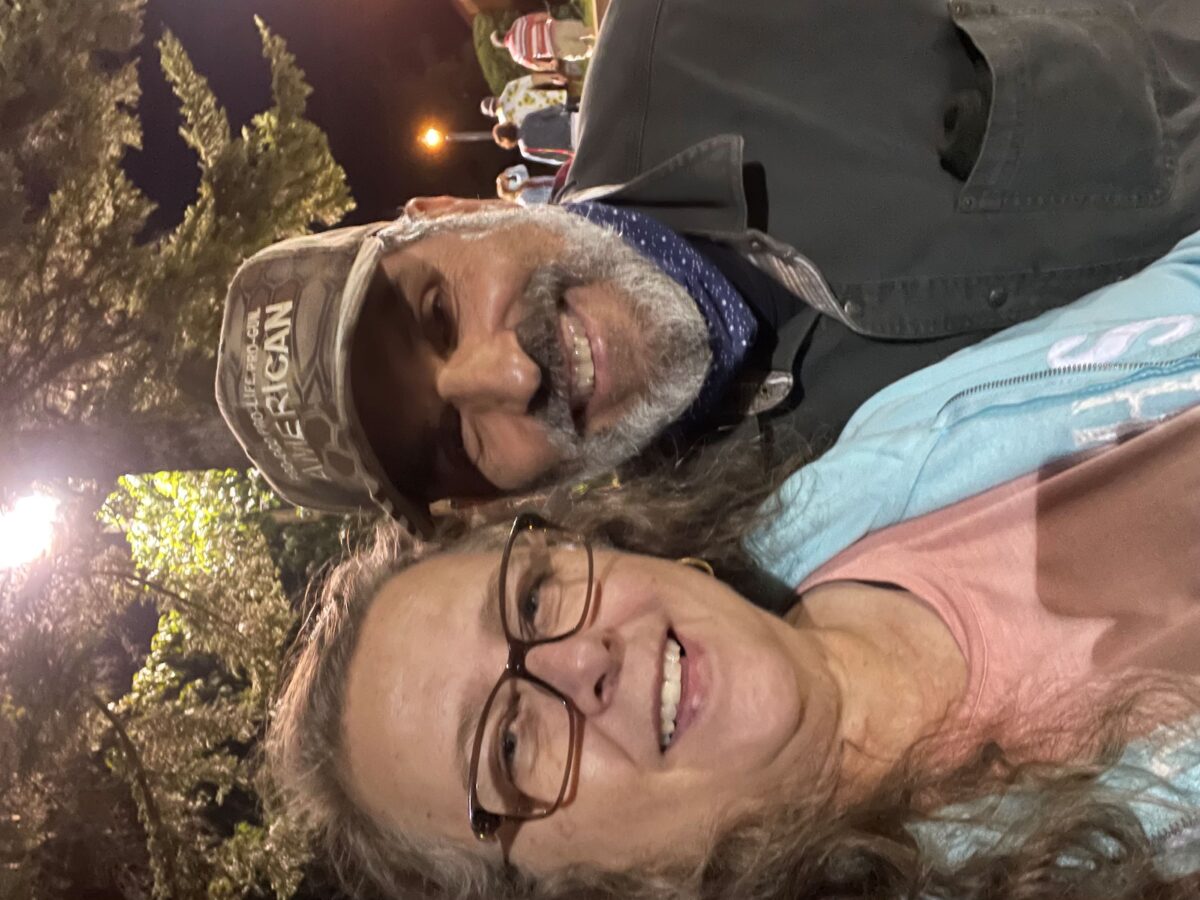 Devout Catholics, they intentionally moved near a church offering Mass in Latin and were deeply involved with their faith. Colleen joined an order of the Carmelite nuns for married women.
When COVID-19 appeared, they worried. Colleen beat cancer twice and had asthma and other health concerns. David had health issues too.
"We knew we were high-risk patients," David said.
Colleen sewed 500 face masks and gave them all away. They took all the precautions they could take. She stayed home most of the time, They wore masks and disinfected.
But when vaccines became available, they couldn't take them because of direct ties to aborted fetal cells.
Suffering
In mid-September, Colleen started showing asthma symptoms. They called her pulmonologist and she prescribed the usual asthma medicines, including her nebulizer.
"We weren't thinking COVID at that time," David said. It was not unusual for Colleen to have an asthma attack. She had complex breathing issues and used a nasal pap and an oxygen concentrator when she slept. Soon, she was coughing and they started to monitor her oxygen saturation levels.
David did what he could to care for her but on Sept. 21, he suddenly felt like he hit a brick wall.
"I went to bed immediately," David said. The next morning he got tested and learned that he had COVID, and the doctor told him certainly Colleen had it too. The general practitioner prescribed a host of medicines, including hydroxychloroquine.
On September 23, Colleen's oxygen level dropped to 88 percent.
"I said, I have to take you to the hospital. She said, if you take me to the hospital, I'm going to die there. I said, if I don't take you, you are going to die here." She wanted to sleep at home through the night, but he checked her level again and it had already dropped to 86 percent.
Too weak from COVID to take her himself, David called an ambulance.
The ambulance crew had Colleen sitting up on a gurney with an oxygen mask on her mouth, so he couldn't kiss her goodbye. Her eyes looked scared. Tracing the sign of the cross on her forehead with his thumb, David blessed her. They waved goodbye and that was the last time he saw her awake.
The hospital had her on a CPAP machine with full oxygen and at home, David was also suffering from COVID. On Sept. 28 he got a call from a doctor at the hospital. They were going to put Colleen on a ventilator and she wanted to talk to David. Her voice was weak, and competing with the oxygen machine.
"I'm going on the ventilator. Bury me in my ceremonial scapular. I love you and the kids."
David started calling friends asking them to pray for Coleen and one friend told him about Ivermectin.
He asked his general practitioner for it and, although David feels his doctor was doing his best, the doctor said the data did not show it would help and did not prescribe it. David got a prescription for himself and Colleen through a telehealth meeting with a doctor from Oklahoma.
David took his Ivermectin and in days, he started to feel better, although today he still has an occasional cough. He asked the hospital to give Colleen Ivermectin.
"They said no, it's not part of our protocol. It doesn't work," David said. "I told the doctors, you need to dispense this medicine. They said no."
Now he was trying to find an attorney, trying to convince the hospital to use the Ivermectin he already had, and he was trying to get permission to go into his wife's room. He says they would not let him visit her because she was contagious, but since he already had COVID, he felt he should have been able to get in.
Eventually, he was able to see her through a window, but he wanted to hold her hand and let her hear his voice.
Jefferson Washington Township Hospital said it does not comment on individual patients and, when asked about its Ivermectin policy, had no comment.
David went to church early on Oct. 10. He got two calls from the hospital just before Mass started. The first call let him know Colleen was in renal failure. He said he would go to the hospital right after church.
"You don't understand. Your wife is dying," David recalls the second call. He went directly to the hospital and this time they let him into the room with a gown and mask.
"I could see she was going to die. I called my kids and grandkids from all over the United States." It was a video call.
Colleen had been weaned off sedation.
"She was awake and she was suffering," David said.
David was an Air Force pilot for 28 years and flew combat missions during which he was responsible for hundreds of lives. He was trained to make life and death decisions in seconds. But he never thought he would be in this situation. He allowed them to remove her from the ventilator.
"I said, Lene, I can't do this to you, and she squeezed my hand. We pulled the vent and she died within 30 seconds. I couldn't hug her because of all the stuff around her. I blessed her."
His sorrow turns to anger when he thinks about the experience. He feels the hospital expected her to die as soon as she went on the ventilator.
"In my opinion, they gave up on her on day one. Their protocols killed her," David said. "The legal system won't do its job. People need to know (Ivermectin) is out there. I want her story to be told because I want other people to be protected and not go through what my kids went through, losing their mother."
"I trusted the system to help, and they didn't care."
Source:  www.theepochtimes.com/with-ivermectin-in-hand-wife-dies-while-husband-begs-hospital-to-administer_4148789.html