by Brian Shilhavy
Editor, Health Impact News
The criminal actions of the FDA and CDC in continuing to keep the mRNA COVID-19 "vaccines" in the market in spite of overwhelming evidence that they cause harm, with over 1 million cases of deaths and injuries now reported to VAERS, the U.S. Government's Vaccine Adverse Events Reporting System, are now even starting to be reported in the corporate pro-Pharma media, as insurance companies continue to report on their data from 2021 when the vaccines were rolled out that show dramatic increases on life insurance and health insurance claims due to the COVID-19 vaccines.
See:
68,000% Increase in Strokes as FDA and NIH Secretly Study Reports of Neurological Injuries After COVID-19 Vaccines
German Health Insurance Claims Show 31,254 Deaths Following COVID-19 Vaccines While Official Government Stats Report Only 2,255
CDC Withholding Data on COVID-19 Vaccines Because "They might be misinterpreted as the vaccines being ineffective" and "The figures would be misrepresented by anti-vaccine groups"
Young people are suffering from heart disease following COVID-19 shots in record numbers, as even the CDC and FDA have to admit now that the shots cause myocarditis and pericarditis. See:
New FDA and CDC Study Shows They Know COVID Vaccines are Causing Myocarditis in Children but They Refuse to Pull Them from the Market
But one sobering fact that is being shown in the U.S. Government's own data in VAERS, that I am not seeing anyone else really report on, not even in the Alternative Media, is that these shots are killing unborn children still in their mother's womb at a record pace, and the CDC still has not updated their recommendations for COVID-19 vaccines and pregnant women in spite of this damaging data.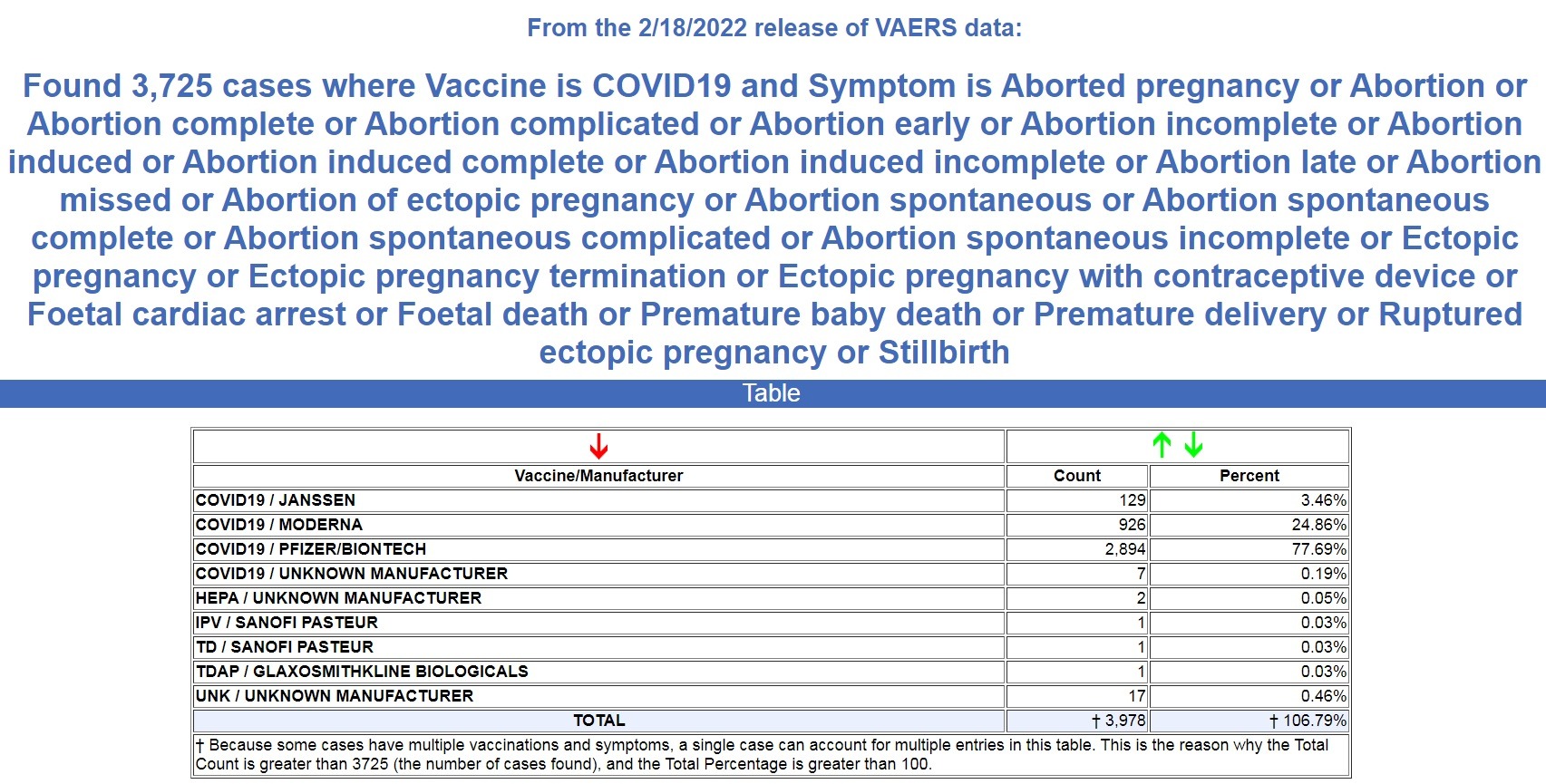 As of the last update to the VAERS database last Friday, which includes data through 2/18/22, there have now been 3,725 fetal deaths recorded following COVID-19 vaccines injected into pregnant and child-bearing aged women. (Source.)
Most of these fetal deaths occurred after the Pfizer vaccine.
According to the CDC, there have now been 550 million doses of COVID-19 vaccines administered in the United States.
That means for every 147,651 doses of COVID-19 vaccines administered, there has been 1 fetal death reported in VAERS.
By comparison, there were over 4 BILLION (4,092,757,049) doses of vaccines administered in the U.S. from 2006 through 2019. (Source.)
During those 14 years, there were 1,369 fetal deaths reported in VAERS using the exact same search terms I used to find fetal deaths following COVID-19 vaccines, with the highest numbers occurring after Merck's HPV vaccines. (Source.)
That means that there was 1 fetal death reported to VAERS from 2006 through 2019 for every 2,989,596 doses administered.
That is a 1,925% increase in fetal deaths following COVID-19 shots as compared to all vaccines administered during a 14-year period from 2006 through 2019.
But the CDC's recommendation for pregnant women to get a COVID-19 vaccine has not changed, even after the study they referenced has since been changed because it was inaccurate.
COVID-19 vaccination is recommended for people who are trying to get pregnant now or might become pregnant in the future, as well as their partners. In addition, everyone who is pregnant, breastfeeding, trying to get pregnant now, or might become pregnant in the future, should get a booster shot. CDC recommends that people who are starting their vaccine series or getting a booster dose get either Pfizer-BioNTech or Moderna (mRNA COVID-19 vaccines), but the J&J/Janssen COVID-19 vaccine may be considered in some situations.

There is no recommendation for routine pregnancy testing before receiving a COVID-19 vaccine. If you are trying to become pregnant or may want to become pregnant, you do not need to avoid receiving a COVID-19 vaccine. Those who are trying to become pregnant do not need to avoid pregnancy after COVID-19 vaccination. If you get pregnant after receiving your first shot of a COVID-19 vaccine that requires two doses (i.e., Pfizer-BioNTech COVID-19 vaccine or Moderna COVID-19 vaccine), you should get your second shot to get as much protection as possible. (Source.)
I wonder what these mothers who lost their babies after receiving a CDC-recommended COVID-19 shot would say about these recommendations?
Here are some that have dared to go public with their stories.
This is from our Odysee channel.
The following videos are all on our Bitchute channel.
Source:  vaccineimpact.com/2022/2000-increase-in-fetal-deaths-following-covid-19-vaccines-but-cdc-still-recommends-them-for-pregnant-women/