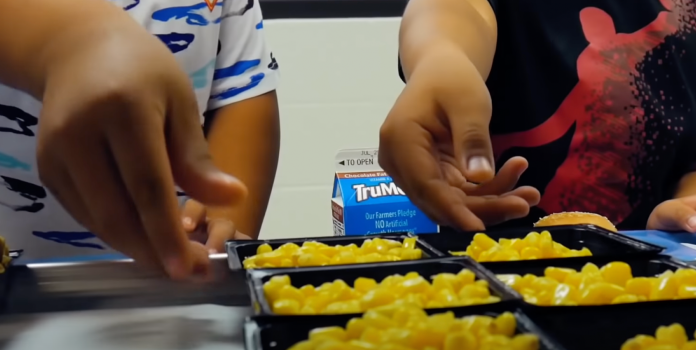 'It seems to be playing politics with feeding poor kids, which is really unfortunate… '
(Dmytro "Henry" Aleksandrov, Headline USA)
K-12 public schools will be required by President Joe Biden to allow boys in girls-only spaces like locker rooms and restrooms, unless they want to lose federal lunch money.
All schools that receive Food and Nutrition Service funding will be forced to protect the "gender identity" of their students by updating their non-discrimination policies and allowing transgender students to use restrooms, locker rooms and shower facilities of the opposite sex if they "identify".
"Under the leadership of the Biden-Harris Administration, USDA [U.S. Department of Agriculture] and FNS are issuing this interpretation to help ensure its programs are open, accessible and help promote food and nutrition security, regardless of demographics," the May 5 announcement read.
"It seems to be playing politics with feeding poor kids, which is really unfortunate," John Elcesser, executive director of the Indiana Non-Public Education Association, told The Federalist.
"Because if a school feels like they cannot participate because it's in conflict with their mission or values, [or] if a religious exemption is not granted, you're taking away a program that's feeding low-income kids."
Government-funded schools can't receive an exemption. The only thing that could be done is for parents and taxpayers to tell school districts to not comply with these demands, according to The Federalist.
Even if this regulation is overturned, American children – specifically, girls – will be forced to experience these changes. It could prove disastrous, as recent events showed. A man who identified as "transgender" sexually assaulted a young female in a girls' restroom in Loudoun County, Virginia, last year.
Daughters don't use bathrooms or locker rooms at their public schools anymore because they don't feel safe there anymore, parents said.
School districts want the federal government to tell them what to do, but protect themselves from parents by blaming the government, Alliance Defending Freedom Senior Counsel Greg Baylor told The Federalist.
"Some percentage of school districts want to be told by the federal government that they have to implement gender ideology," Baylor observed.
"If anyone complains, they can say, 'We're just doing what they told us. Go blame Joe Biden, not me.'"
Then he said that people should protect their kids.
"[We] need … courageous parents who share their views with school administrators and school boards," Baylor said.
"We need courageous school administrators and school boards to do the right thing and push back on this interpretation of Title IX because there are real harms to kids as a consequence."
Source: headlineusa.com/biden-admin-threatens-lunch-money-of-schools-that-deny-trans-agenda/?utm_source=HUSAemail&utm_medium=email&utm_campaign=HUSAemail