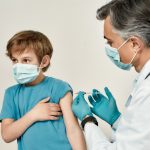 (NaturalHealth365) Establishing trust requires transparency.  But when international organizations purported to be "trusted sources" drastically modify their messaging to fit the narrative that the COVID shot is safe and effective for all, it's not hard to imagine why there is growing distrust throughout the mainstream public health community.
Just consider the recent stunning message made by the World Health Organization (WHO) regarding kids and the COVID injection.  It didn't take long at all for the WHO to revise their language. What's your interpretation of the change?
WHO makes statement against COVID shot for kids, then immediately waters down language – why?
On their website updated June 23, the WHO currently has this to say about COVID shots and children under 18:
"Children and adolescents tend to have milder disease compared to adults, so unless they are part of a group at higher risk of severe COVID-19, it is less urgent to vaccinate them than older people, those with chronic health conditions, and health workers.  More evidence is needed on the use of the different COVID-19 vaccines in children to be able to make general recommendations on vaccinating children against COVID-19."
It's a significantly different message from what the WHO had written just days earlier:
"Children should not be vaccinated for the moment. There is not yet enough evidence on the use of vaccines against COVID-19 in children to make recommendations for children to be vaccinated against COVID-19.  Children and adolescents tend to have milder disease compared to adults.  However, children should continue to have the recommended childhood vaccines." 
Do NOT ignore the health dangers linked to toxic indoor air.  These chemicals – the 'off-gassing' of paints, mattresses, carpets and other home/office building materials – increase your risk of nasal congestion, fatigue, poor sleep, skin issues plus many other health issues.
The statement "Children should not be vaccinated for the moment" was bolded by the WHO.  You can see the original archived page here.
Astute citizens are now raising understandable questions about the new heavily-edited message from the WHO.  Meanwhile, fact-checkers are working hard to protect the narrative.
In an email to Kaiser Health News, Dr. Rachel Vreeman, director of the Arnhold Institute for Global Health at the Icahn School of Medicine at Mount Sinai Hospital, states that the WHO is "not saying that children should not be vaccinated against COVID or that the vaccines currently approved for use in children 12 years old and above are not safe."  Instead, she argues that the WHO is simply saying the priority should be on getting more adults injected, "since older adults are at the highest risk of serious complications and death from COVID-19."
Statements like these raise many questions.  Chief among them:
How can one categorically deny that COVID shots are unsafe in children while at the same time admitting that there is "not yet enough evidence" about the experimental drug in this age group to make a recommendation about it?
Is the potential benefit of the COVID shot truly worth the risk for kids?  Pfizer trial data on 12- to 15 year-olds instills doubt
On June 11, the WHO's chief scientist also stated the global agency is simply urging people to prioritize the shots for older adults, healthcare workers, and front-line workers.  However, they add that children are still "at much lower risk of getting severe disease compared to older adults."
Meanwhile, the nonprofit organization Physicians for Informed Consent (PIC) recently shared data from the Pfizer COVID-19 trial on 12- to 15-year-old kids.  In their risk statement, PIC points out the following:
10.7% (1 in 9) of the kids in the Pfizer trial who received the injection experienced a severe adverse event
This rate of severe adverse events from the shot itself was nearly 7 times higher than the rates of actual COVID cases among kids in the study who didn't get jabbed (a mere 1.6%)
Again, scientific data cited by the WHO shows that children have a "much lower risk of getting severe disease compared to older adults"
PIC asserts that the Pfizer trial study was ultimately not strong enough to prove whether the COVID shot is actually safer than the disease in children – and yet US officials continue to encourage parents to get their kids injected with the experimental drug.
Overall, the chances of a child under 17 years of age contracting SARS-CoV-2 and dying from COVID-19 is 1 in 290,000.
Source:  www.naturalhealth365.com/kids-should-not-get-covid-shot-3883.html