The U.S. Senate on Wednesday narrowly voted to block President Joe Biden's COVID-19 vaccine mandate for the private sector.
In a 52-48 vote, mainly along party lines, the Senate voted to pass a resolution of disapproval (pdf) of the rule submitted by the Occupational Safety and Health Administration (OSHA), which is overseen by the Department of Labor. 
All 50 Republicans in the upper chamber joined with Sen. Mike Braun (R-Ind.) and Senate Minority Leader Mitch McConnell (R-Ky.) to challenge the measure under the Congressional Review Act (CRA), which allows Congress to review and, if necessary, overturn new regulations put into place by federal offices such as OSHA. 
Two Democrats, Sens. Joe Manchin III of West Virginia and Jon Tester of Montana, joined the Republicans in voting to overturn the vaccine mandate.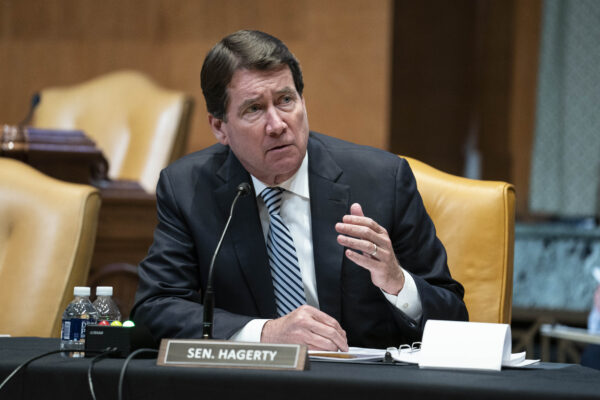 Addressing the Senate floor ahead of the vote, Sen. Bill Hagerty (R-Tenn.) laid out his reasoning for voting against the vaccine mandate.
"Biden's vaccine mandate—like so many other of the left's policies—is about power, controlling more aspects of Americans' lives, & in so doing, eroding Americans' personal autonomy," Hagerty said.
It comes after a U.S. appeals court on Nov. 12 rejected a challenge by the Biden administration and reaffirmed its decision to put on hold OSHA sweeping vaccine mandate, which required that businesses with 100 employees or more ensure that workers either be vaccinated against COVID-19 by Jan. 4, 2022, or be tested weekly and wear a mask.
The U.S. Fifth Circuit Court of Appeals in New Orleans stated in an opinion last month that OSHA's mandate is "staggeringly overbroad" and ordered it to "take no steps to implement or enforce the mandate until further court order."
The court had previously issued a temporary halt to the mandate on Nov. 6, pending litigation.
The mandate was introduced in September by Biden, who told the nation that "our patience is wearing thin" with the millions of Americans who have chosen to not get a vaccine against the CCP (Chinese Communist Party) virus.
To enact the mandates, Biden asked OSHA to declare an emergency temporary standard. In the past, such standards have been used to guard employees against dangerous chemicals or other similar toxins.
OSHA said in a statement to The Epoch Times at the time that the emergency temporary standard would "ensure [that a firm's] workforce is fully vaccinated or require any workers who remain unvaccinated to produce a negative test result on at least a weekly basis before coming to work."
In total, Biden's mandate would extend to roughly 100 million Americans—nearly a third of all U.S. citizens.
In the federal appeal court's decision on Nov. 12, it stated that the Biden administration's vaccine mandate "raises serious constitutional concerns" and "likely exceeds the federal government's authority."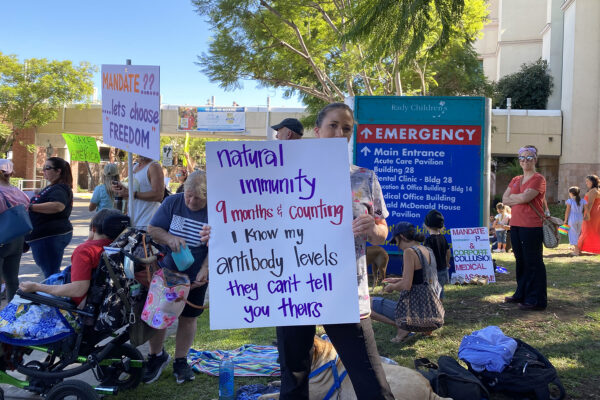 OSHA shortly later announced a decision to suspend its implementation and enforcement of the mandate.
Under the CRA procedure, if a rule is overturned, federal administrations are forbidden from issuing the same or a substantially similar rule.
The White House has continued to push the rhetoric that unvaccinated Americans are to blame for slowing down the nation's economic recovery.
The White House didn't immediately respond to a request by The Epoch Times for comment. However, Biden administration officials have said that the president would veto such a resolution should it reach his desk.
Joseph Lord contributed to this report.