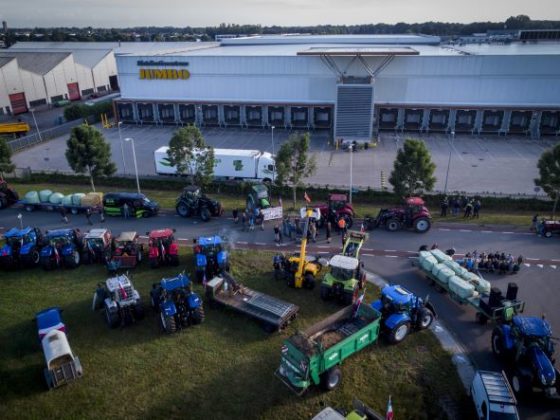 Dutch farmers have blocked multiple supermarket distribution centres, in the latest protest against forced farm closures. Police yesterday advised people to work from home after farmers threatened to bring the entire country 'to a standstill'.
Protests are also expected around Schiphol airport on Monday, which has called for travellers to come by public transport. The Dutch army is also ready to step in if there is a threat to national safety, police announced on Sunday.
Dutch media report that farmers have blocked the entrance to the A50 motorway in Veghel, where there is a Jumbo supermarket distribution centre, and multiple other roadways. Three Albert Heijn centres were also reportedly been blocked on Monday morning, while farmers have also taken action around Tata Steel in IJmond and the A9 Gaasperdammertunnel.
At the weekend, the government announced that veteran VVD politician Johan Remkes has been appointed as an official mediator to act between the government and furious farmers.
Meanwhile, fishermen are also protesting by blocking Lauwersoog harbour with ships in protest at higher fuel prices and less room at sea due to wind farms. On Friday, the government announced a €444 mln support package to help the industry become 'smaller, more diverse and more sustainable.'
Source: www.dutchnews.nl/news/2022/07/farmers-fishermen-protest-at-sustainability-policy/