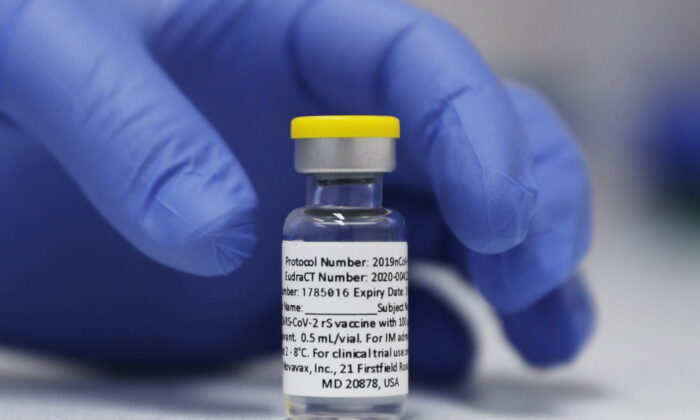 A vial of the Phase 3 Novavax coronavirus vaccine prepared for use in a trial at St. George's University hospital in London, on Oct. 7, 2020. (Alastair Grant/AP Photo)
Staff with the U.S. Food and Drug Administration (FDA) on Friday flagged the risk of heart inflammation following the administration of the Novavax COVID-19 vaccine, although they concluded the shot reduces the risk of mild-to-severe COVID-19.
In the company's nearly 30,000 patient trial, conducted between December 2020 and September 2021, there were four cases of myocarditis, a type of heart inflammation also associated with mRNA vaccines, detected within 20 days post-vaccination. One patient in the trial reported myocarditis after receiving a placebo.
"These events raise the concern for a causal association with this vaccine, similar to the association documented with mRNA COVID19 vaccines," FDA staff wrote in briefing documents that were released on Friday.
They continued: "Data from passive surveillance during post-authorization use in other countries also indicate a higher than expected rate of myocarditis and pericarditis (mainly pericarditis) associated with the vaccine. However, interpretation of these passive surveillance data is not straightforward, and further evaluation is needed to inform the risk of myocarditis and pericarditis associated with this vaccine, and their outcomes, as additional data emerge over time."
The agency said it has asked Novavax to flag the risk of myocarditis and pericarditis, another type of inflammation of the heart, as an identified risk in its documentation. Data from Novavax's trial was acquired before the Omicron and Delta variants spread across the world.
"Based on the efficacy estimate in the clinical trial of this vaccine," the FDA staff wrote, "it is more likely than not that the vaccine will provide some meaningful level of protection against COVID-19 due to Omicron, in particular against more severe disease."
In a statement to Reuters, Novavax said that its vaccine will drive vaccination rates among people who have been hesitant to get a COVID-19 vaccine. The company has developed a protein-based vaccine rather than an mRNA-based vaccine like those made by Pfizer or Moderna, or an adenovirus-based vaccine such as the ones made by Johnson & Johnson or AstraZeneca.
"Despite the wide availability of authorized or approved vaccines, the SARS-CoV-2 pandemic is not well controlled in the U.S. … there remains a desire for vaccines that have been developed using well-understood technology platforms," the company said. SARS-CoV-2, which causes COVID-19, is another name for the CCP (Chinese Communist Party) virus.
Novavax's study enrolled about 30,000 adults in the United States and Mexico, finding its vaccine had an efficacy of about 90.4 percent.
A committee of the FDA's experts is scheduled to speak and vote on the authorization of the vaccine for adults on June 7, according to the agency's website.
Novavax's shares dropped about 20.06 percent as of Friday morning.
Source: www.theepochtimes.com/fda-flags-heart-inflammation-risk-over-covid-19-vaccine_4510371.html?utm_source=Morningbrief&utm_campaign=mb-2022-06-06&utm_medium=email&est=xbvXo2XxZstvW0KucRPJnl3ABYC8cCXhZ4ZvXflKtXHqmrMDMZDS8NyTqkgl2w%3D%3D