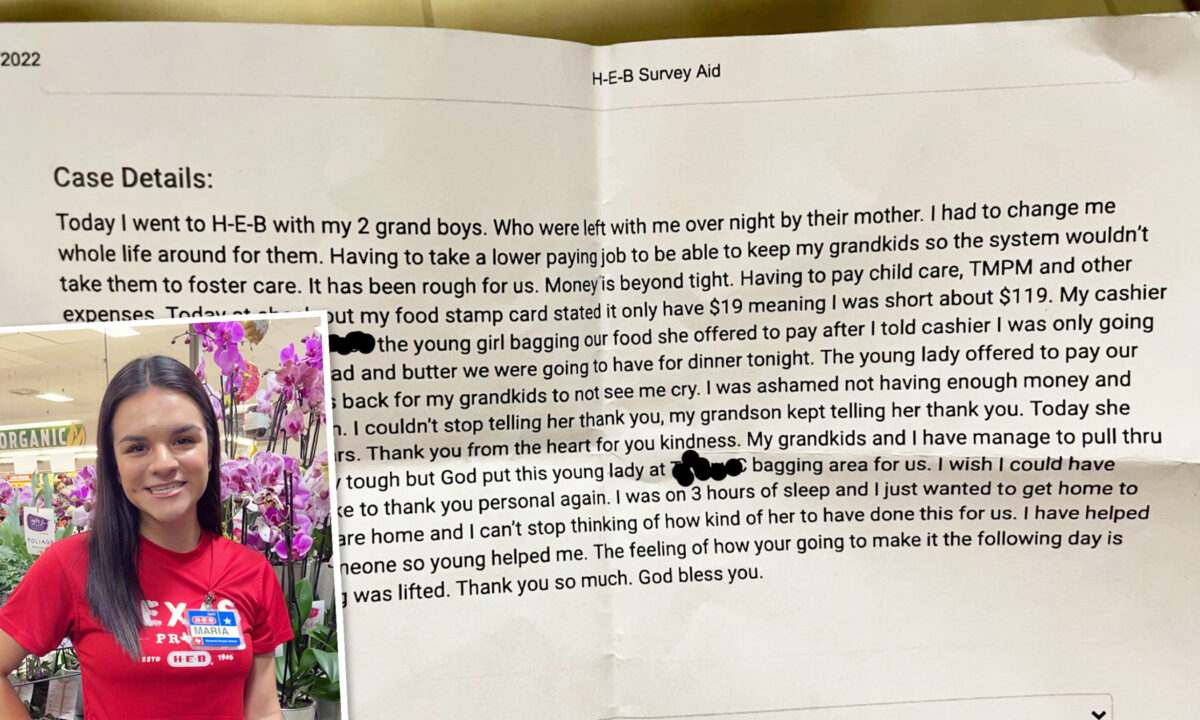 BY LOUISE CHAMBERS | MAY 6, 2022
A teen grocery bagger felt compelled to pick up the bill for a struggling grandmother when she fell short of cash at the checkout. After learning of the massive impact her kind deed had, she's now sharing her story in hopes of prompting others to be kind, too.
Texas A&M University student Maria Balboa, 19, had been working at an H-E-B grocery store for less than two months when an older Hispanic woman and two children approached her checkout on March 28.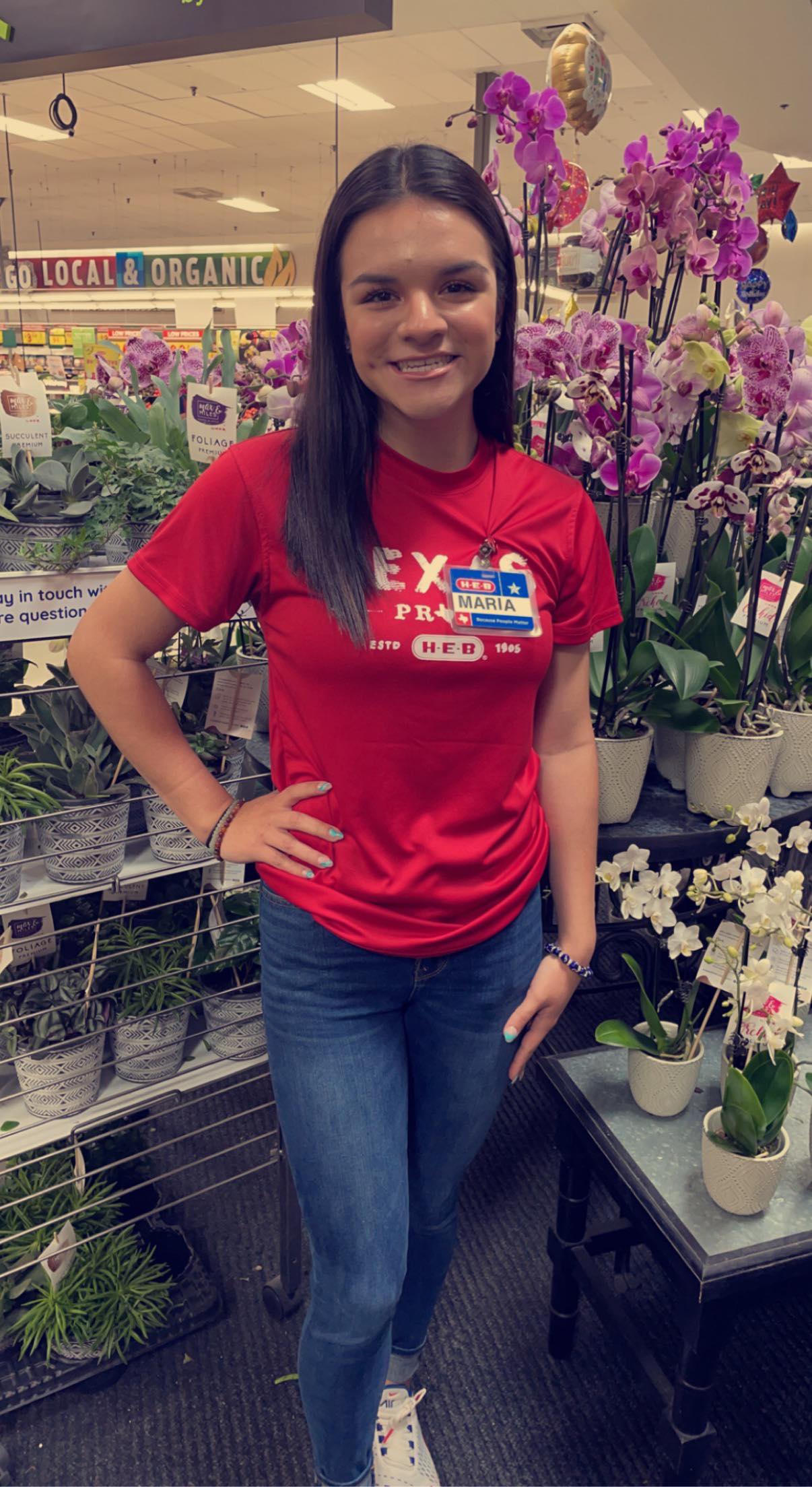 "At the time, I didn't know they were her grandkids," Maria told The Epoch Times. "She was using a SNAP [government assistance] card to pay for the groceries, and it stated it only had $19 left on it."
Hearing this, the woman was completely unaware and shocked to know that she had only that much money left on her card.
"She said she would have to put all the groceries back, besides a few items for dinner," Maria said.
Maria asked the cashier for the outstanding sum: it was $137.
"Immediately, something told me to pay for the groceries," she said, despite that the sum was a stretch for her. "l felt something telling me to pay, and it wouldn't stop.
"My heart hurt for this woman, and especially the two kids. I wanted them to have groceries."
Initially, the woman was embarrassed and reluctant to accept help, but Maria insisted, settled the bill, and bagged the groceries, which included bread, butter, fruit, a rotisserie chicken, and snacks for the kids.
After paying the woman's bill, Maria went on with her day and never expected to hear from her again. She also didn't tell anyone about this encounter, since she was just happy to have helped someone.
However, a few days later, unbeknownst to Maria, the grateful customer had sent in a survey to her bosses.
"I got called into the office; I thought I was in trouble, but no, they said someone wrote a survey about me," Maria said. "I thought it was a bad one at first until he told me it was from the lady whose groceries I paid for."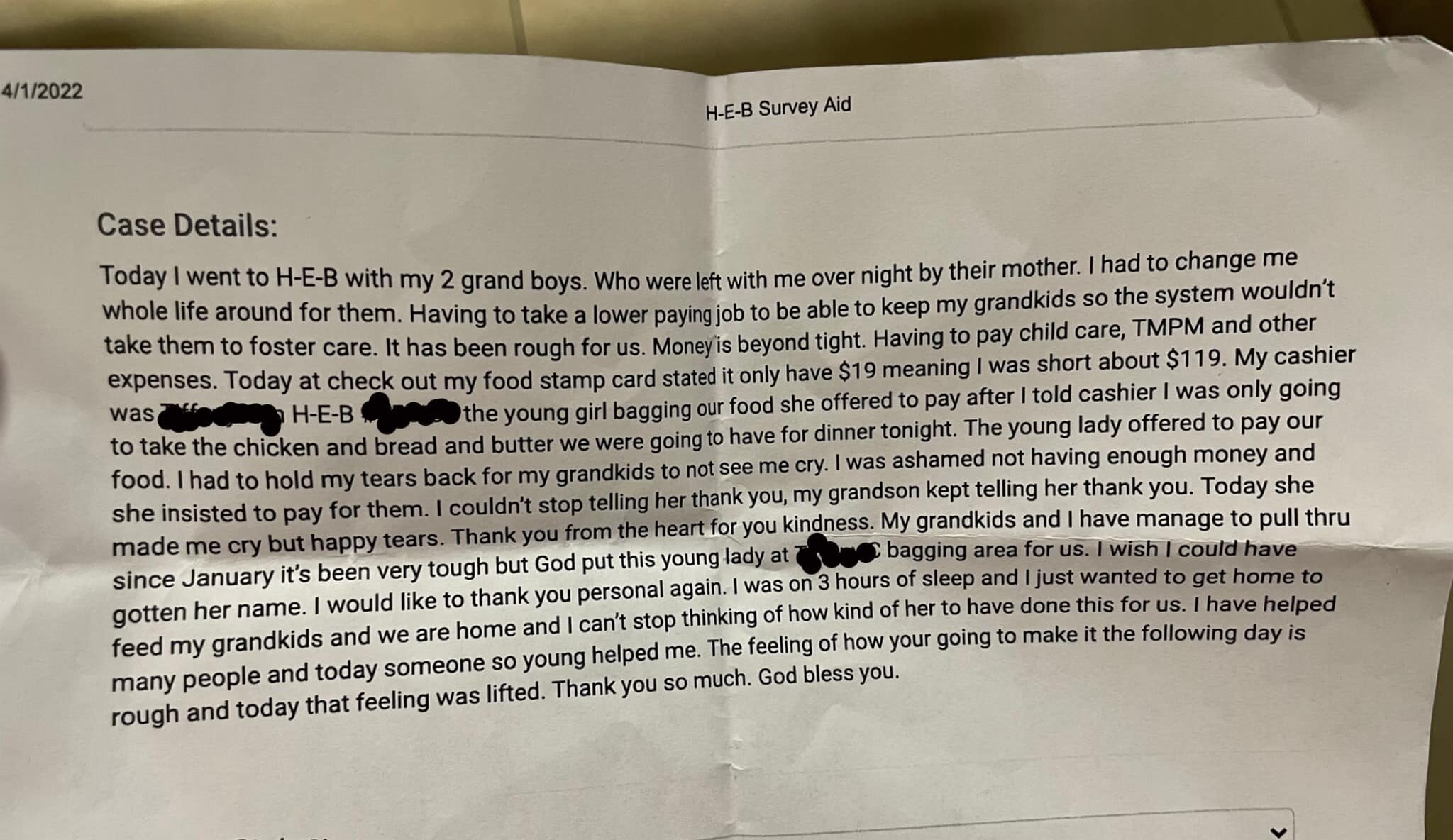 "She explained that she had taken in her two grandkids when they were left by their mother," Maria said. "This was why money had been tight for her, and she had to take a lower-paying job so they wouldn't go into the foster care system. She thanked me for my kindness that day, because it really helped her out."
Maria's managers were tearful and praised the grocery bagger for her heart, she said, and then she listened in shock as they told her they were reimbursing her the $137 and gave her a gift basket to show their appreciation.
The helpful college student said the impact of her kind deed hit her on the way home that day, and she couldn't hold back her tears.
Amid praise for Maria, the grateful grandmother had written, "God put this young lady at [the] bagging area for us."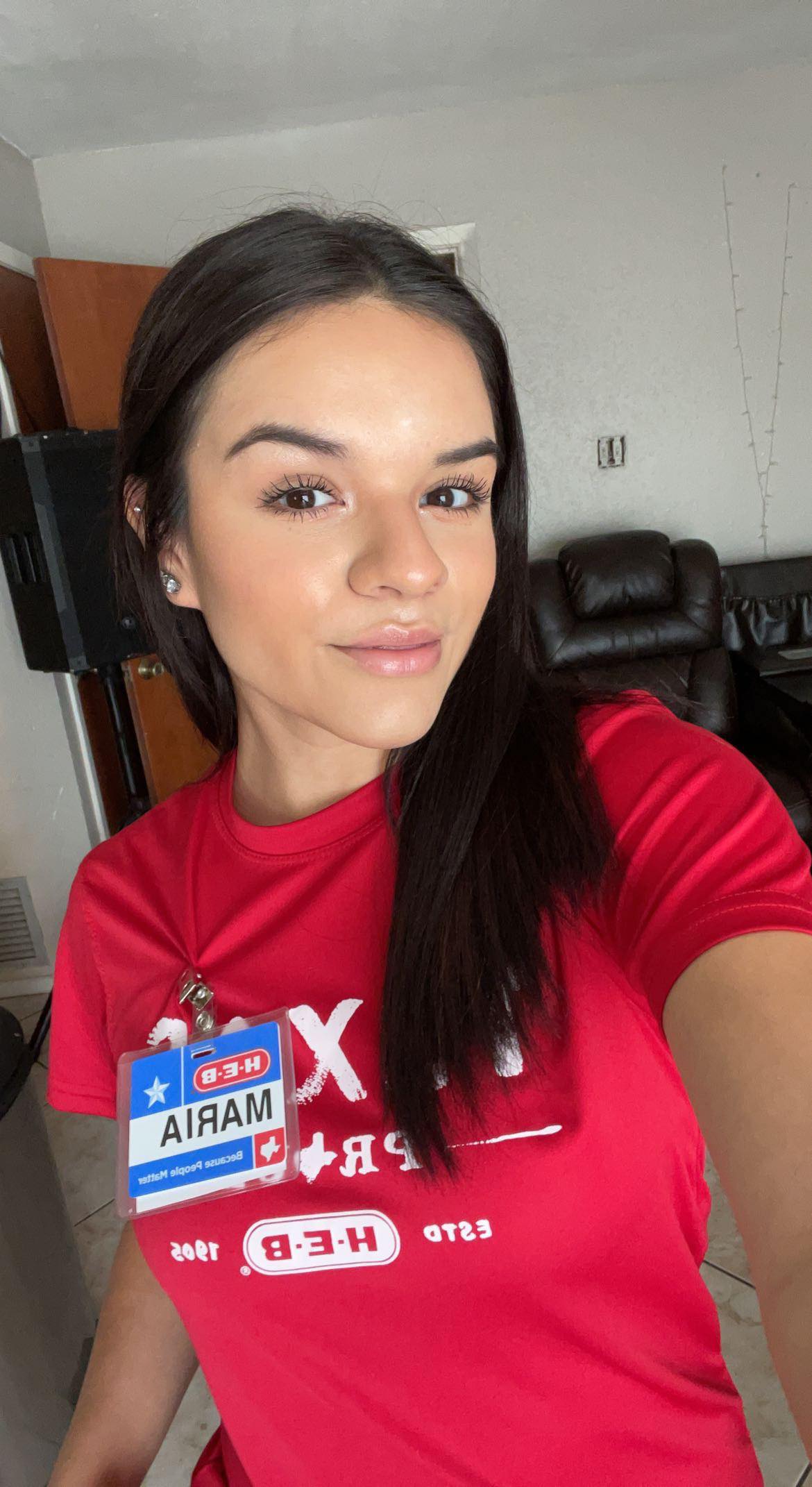 Maria, who was born and raised in Corpus Christi, loves working at H-E-B because she has "met so many great people, and the environment is awesome."
Reflecting back on her kind act, she said: "I have done other kind things in the past, even paid for other people's groceries, but after that, I don't know what happens to them.
"This time, I got the privilege of knowing what happened to the woman and her two grandkids."
The teen's advice to others is to act with kindness when they really feel it in their heart.
"It doesn't have to cost you $137," she said. "Being a genuine and kind person costs nothing. It can be something small, like holding the door open for someone; small actions like these are what make the world go round."
Source: https://www.theepochtimes.com/teen-bagger-pays-for-struggling-grandmas-137-grocery-bill-says-something-told-me-to_4410123.html?utm_source=News&utm_campaign=breaking-2022-05-23-3&utm_medium=email&est=TgXaCPZ8UmQv1bQAgv36hDMhvb%2B1sLnIzNVe2eiACA0w9t9CHCd0vJ4OXMxO6g%3D%3D