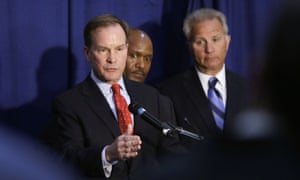 Three Michigan Officials Are First To Be Charged In Flint Water Crisis–Prosecutor Says They Won't Be The Last
In what prosecutors promise is the first in a long line of criminal charges against various officials linked to the Flint water crisis, three state and local officials were formally charged on Wednesday for their roles in the catastrophe.
The officials face multiple felonies and misdemeanor charges accusing them of misconduct, tampering with evidence, and "willfully" misleading federal officials. The charges finally come more than six months after Governor Rick Snyder of Michigan admitted his administration failed to understand how bad the lead contamination problem was in Flint.
Michigan Attorney General Bill Schuette sounded a tone of outrage and promised swift retribution.
"Our system of justice applies to everyone," Schuette said at a press conference announcing the charges. "It's not rigged. No one is above the law. Not on my watch. We will hold each and every person–each and every person who breaks the law will be held accountable."
Among those indicted was Mike Glasgow, Flint's laboratory and water quality supervisor, who faces charges of willful neglect of office, and tampering with evidence. The D.A.'s office says that Glasgow falsified documents that suggested that Flint tested for lead in homes with lead water service lines.
Other charges came down on Mike Prysby, an official with the Michigan department of environmental quality, and Stephen Busch, who once headed up the environmental department's office of drinking water. They are each charged with multiple counts of misconduct in office, conspiracy to tamper with evidence, tampering with evidence and violations of the safe drinking water act.
The charges carry possible sentences that range from four to five years in prison each, along with fines up to $10,000.
All of which, one would think, must be music to the ears of the residents of Flint.
On the other hand, it's a bit of cold comfort isn't it? We're talking about hundreds of children who have suffered from lead poisoning, and thousands more who tested positive for high levels of lead in their blood, all of whom face a potential lifetime of learning disabilities, developmental disabilities, and other problems.
All due to the zeal with which Michigan officials, at the behest of Governor Rick Snyder, sought to impose "austerity" measures on the poorest neighborhoods and communities as cost-cutting measures to enable the state to pay for $1.7 billion in corporate tax cuts enacted by Governor Snyder shortly after taking office.
These children were poisoned and damaged for remainder of their lives for money. To save money. Tax money, which is money all residents of Michigan pay, to be administered by their duly elected government, which, as we all know, is We The People.
To save money, and to serve the zealotry of the adherents to a morally, spiritually and literally bankrupt political philosophy that has been proven faulty time and again, the lives of children have been irrevocably damaged and curtailed before they even have a chance to begin.
As one resident, Melissa Mays said, "I'm happy to see criminal charges, but Governor Snyder should also be on the list."
Here's hoping that for once, the people who are actually responsible pay the price for knowingly damaging the health of their constituents.
http://www.theguardian.com/us-news/2016/apr/20/flint-water-crisis-three-state-local-officials-first-criminal-charges-michigan-lead