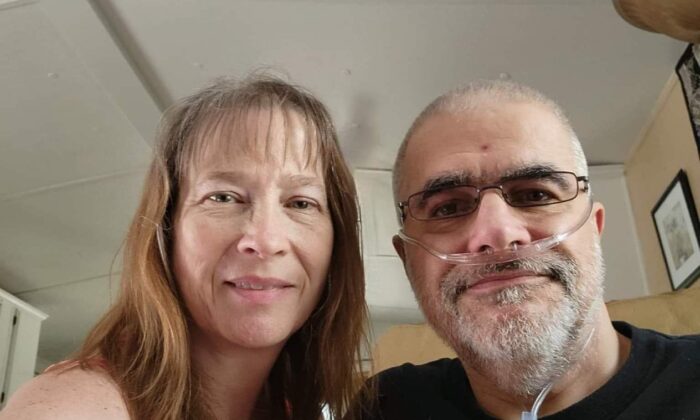 The U.S. Department of Veterans Affairs denied a life-saving lung transplant to U.S. Army veteran because he is not vaccinated against COVID-19.
James Jooyandeh's requests for both a referral for the transplant and a religious exemption from the vaccine were recently denied by the Veterans Affairs (VA) hospital in Wisconsin where Jooyandeh has been treated for the past several years.
Jooyandeh, a former tank commander for the U.S. military, suffers from advanced stages of pulmonary fibrosis.
"Unfortunately, we are unable to offer lung transplant as a treatment option for you due to your unwillingness to receive recommended routine health maintenance, including your vaccinations, which is an absolute contraindication to lung transplantation at our center," wrote Jooyandeh's primary care physician Dr. Samir Sultan, a transplant pulmonologist with the VA hospital in Wisconsin, and Dr. James Maloney, chief of surgical services at the Veterans Hospital.
In an exclusive interview with The EpochTimes, Jooyandeh and wife Deborah told The Epoch Times they are both against the COVID-19 vaccine because fetal cell lines were used in the development and testing of the vaccine and because of the vaccine's potential health risks.
"One of the side effects that was just released was interstitial lung disease and that's what we have," Deborah Jooyandeh told The Epoch Times, "so why would he take a vaccine that causes what's killing him."
Jooyandeh said he is also feeling "slighted" by the very administration he for so long served. Following a 13-year tour in the U.S. Army, Jooyaneh served eight years in the National Guard and five years in the Army Reserve.
Now 52, as a civilian he worked as a merchandiser for Nestle and does not have the means to afford a lung transplant out of pocket. His only choice is to use his VA benefits.
In order to do that, a VA doctor must write a referral to a facility since VA hospitals do not perform transplants themselves. The VA mostly refers veterans in need of transplants to Vanderbilt University Hospital in Tennessee.
Vanderbilt does not require the COVID-19 vaccine for transplant patients, but Sultan, as records show, still refused to make the referral.
Both he and Maloney acknowledged in their letter that Jooyandeh "is significantly impaired due to his lung condition," but refused to reconsider their decision.
They also refused to consider Jooyandeh's request for a religious exemption.
What remains unclear is what VA policy Sultan and Maloney are following in refusing to give Jooyandeh a referral for his much needed lung transplant.
In a letter preceding their denial of Jooyandeh's request for a referral, John Rohrer, director of the Transplant and Surgical Service Department of Veterans Affairs in Wisconsin stated in a letter that he had confirmed from the hospital's "coordinator" that the COVID-19 vaccine is required "per current Lung Transplant program guidelines."
However a spokesman for the VA was unable to provide The Epoch Times with the VA's policy on referring veterans who are not vaccinated against COVID-19 for a transplant.
Rohrer also did not respond to inquiries by The Epoch Times asking him to clarify what guidelines he was referring to.
Sultan and Maloney, who adid not respond to inquiries from The Epoch Times, cited the recommendations of the United Network for Organ Sharing (UNOS) as a basis for their decision.
In March, The Epoch Times reported that Pfizer is one of UNOS corporate sponsors. Private hospitals who have denied unvaccinated patients transplants have too cited UNOS policies for their position. In response, UNOS issued a statement to The Epoch Times emphasizing their recommendations are not mandates and hospitals are free to make their own decisions regarding transplants for unvaccinated patients.
Jooyandeh's lung condition may stem from his military service. While he admitted he smoked, Jooyandeh also was part of an Army unit tasked with burning spent ammo and other munitions in an open pit.
Jooyandeh, who has no other comorbidities, told The Epoch Times he believes Sultan is operating on his own personal beliefs and has "blacklisted him to a point where no one else will override him."
He even wrote a negative report about Jooyandeh refusing to take medication, even though his medical records show he had an adverse reaction to it.
"He's continuously standing in our way," said Jooyandeh, "it's like he's bruising my records to make me look uncooperative."
Catalano said she questions why the VA would even care if Jooyandeh is vaccinated since none of their hospitals would be performing the transplant.
"The VA is denying their access to health care, nobody is asking the VA to perform it," she said "it should grant the religious exemption or just let them go to Vanderbilt and pay for it."
Catalano pointed to a recent study that shows the VA is in the minority when it comes to refusing to make referrals for unvaccinated patients in need of a major organ transplant.
According to the study, which was conducted by the American Journal of Transplantation, out of 141 U.S. transplants centers surveyed, 60.7 percent reported that the COVID vaccination was not required in order to receive a transplant.
Source: www.theepochtimes.com/veterans-affairs-denies-life-saving-lung-transplant-to-unvaccinated-veteran_4511707.html?utm_source=News&utm_campaign=breaking-2022-06-04-2&utm_medium=email&est=sXnmG5s7l2M7MB6Xk5qB%2BUqR9xgW4zDXLRqhKfbAsLdAV2uXYpEg2TZrID7JUQ%3D%3D